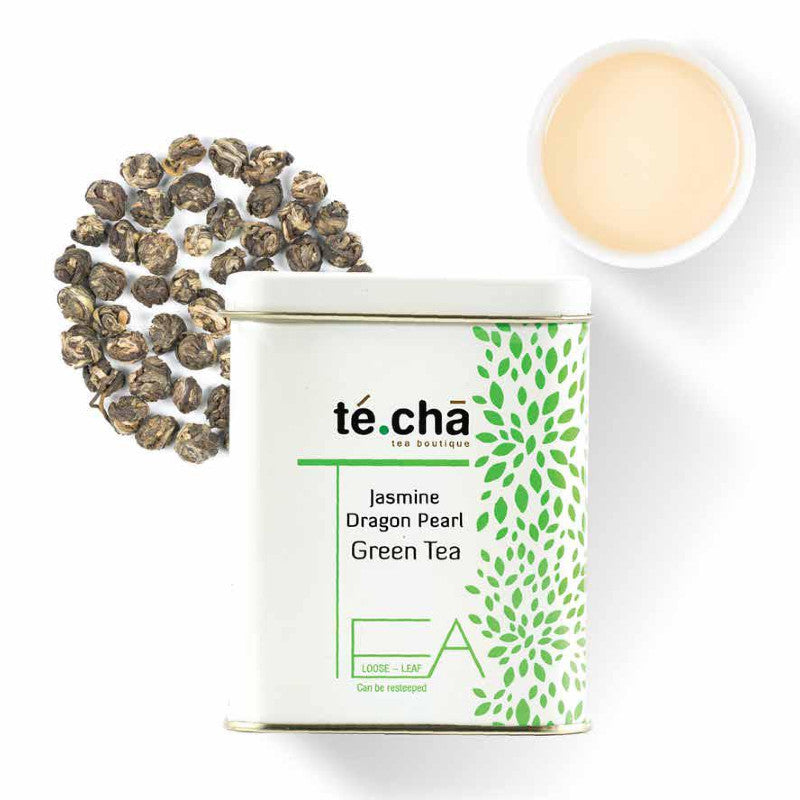 Anti-oxidants
Freshly Blended
Helps in weight loss
Jasmine Dragon Pearl Green Tea
The Essence of Te.Cha Jasmine Dragon Pearl Green Tea
Te.Cha's Jasmine Dragon Pearl Green Tea is a meticulously crafted blend of green tea leaves that have been hand-rolled around fragrant jasmine blossoms. This unique process allows the tea to absorb the delicate aroma and subtle sweetness of the jasmine, creating a symphony of floral notes and grassy undertones in every cup.
Why Choose Te.Cha Jasmine Dragon Pearl Green Tea?
Exceptional Quality: We source our green tea leaves and jasmine blossoms from renowned origins, ensuring that each cup of Te.Cha Jasmine Dragon Pearl Green Tea delivers an authentic and delightful experience.

Captivating Floral Aroma: Experience the enchanting fragrance of jasmine, known for its calming and soothing properties.

Hand-Rolled for Perfection: Each pearl-shaped tea ball is meticulously hand-rolled, showcasing the artistry and dedication behind this tea.

Visually Stunning: Witness the beauty of the green tea leaves and jasmine blossoms as they unfurl in hot water, creating a visually captivating experience.

Embrace the Art of Chinese Tea Culture: Immerse yourself in the traditional Chinese art of tea making with this exquisite blend.
The Versatility of Te.Cha Jasmine Dragon Pearl Green Tea
Te.Cha's Jasmine Dragon Pearl Green Tea can be enjoyed in various ways:
Traditional Brew: Prepare a classic cup of tea by steeping the pearls in hot water for a few minutes, allowing them to unfurl and release their full flavor.

Multiple Infusions: Enjoy several infusions from the same pearls, as they retain their flavor and aroma for multiple steeps.

Cold Brew: For a refreshing iced tea, cold brew the pearls overnight in cold water and enjoy a chilled beverage on a warm day.

Floral Infusions: Experiment by adding the pearls to other teas or infusions for a touch of floral elegance.
The Health Benefits of Te.Cha Jasmine Dragon Pearl Green Tea
Beyond its captivating aroma and delicate flavor, Te.Cha Jasmine Dragon Pearl Green Tea offers several health benefits:
Promotes Relaxation: The soothing aroma of jasmine is known to promote relaxation and reduce stress.

Boosts Immune System: Green tea is rich in antioxidants, which help protect against free radicals and support the immune system.

Improves Concentration: Green tea's L-theanine content may enhance focus and concentration.

Aids Digestion: Green tea has traditionally been used to aid digestion and soothe an upset stomach.

Rich in Catechins: Green tea contains catechins, which may offer potential benefits for overall health and well-being.
Experience the Te.Cha Difference
When you choose Te.Cha's Jasmine Dragon Pearl Green Tea, you're choosing more than just a beverage; you're choosing an experience. We are passionate about curating a collection of exceptional teas that embody the rich traditions and flavors of different cultures. Our commitment to quality and customer satisfaction ensures that you receive an unparalleled tea experience.
Unleash the enchanting aromas and subtle flavors of Te.Cha's Jasmine Dragon Pearl Green Tea. Place your order today and embark on a journey to a fragrant oasis, one sip at a time.
Product Advantages
Aromatic Delight: Jasmine's fragrance adds a pleasing sensory experience.
Antioxidant Power: Combines green tea's antioxidants with jasmine's benefits.
Stress Reduction: Aromatherapy benefits of jasmine may promote relaxation.
Metabolism Support: Green tea compounds could aid in metabolism and weight management.
Heart Health: May contribute to cardiovascular wellness.
Brain Boost: Green tea's theanine and caffeine enhance cognitive function.
Water
150 ml Water
Temp
85° Temperature
Leaves
2gm Leaves
Time
3mins Time
No. of Steeps
2