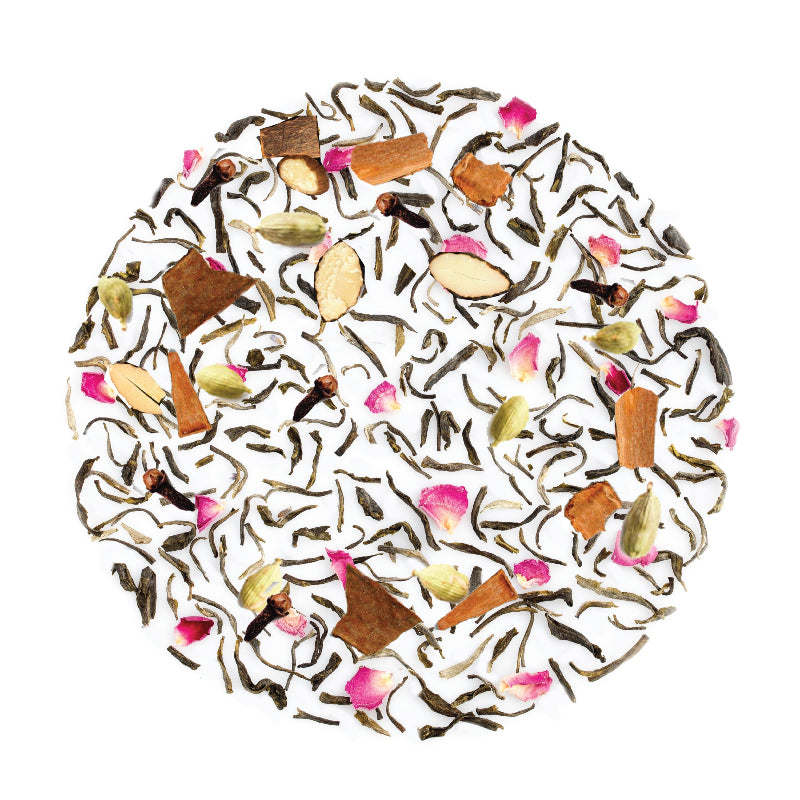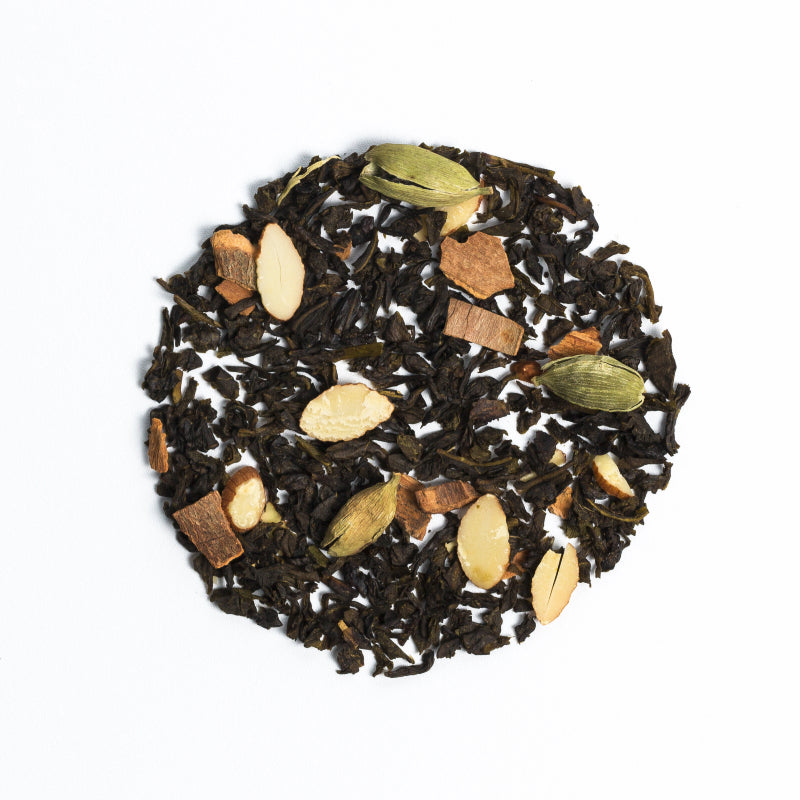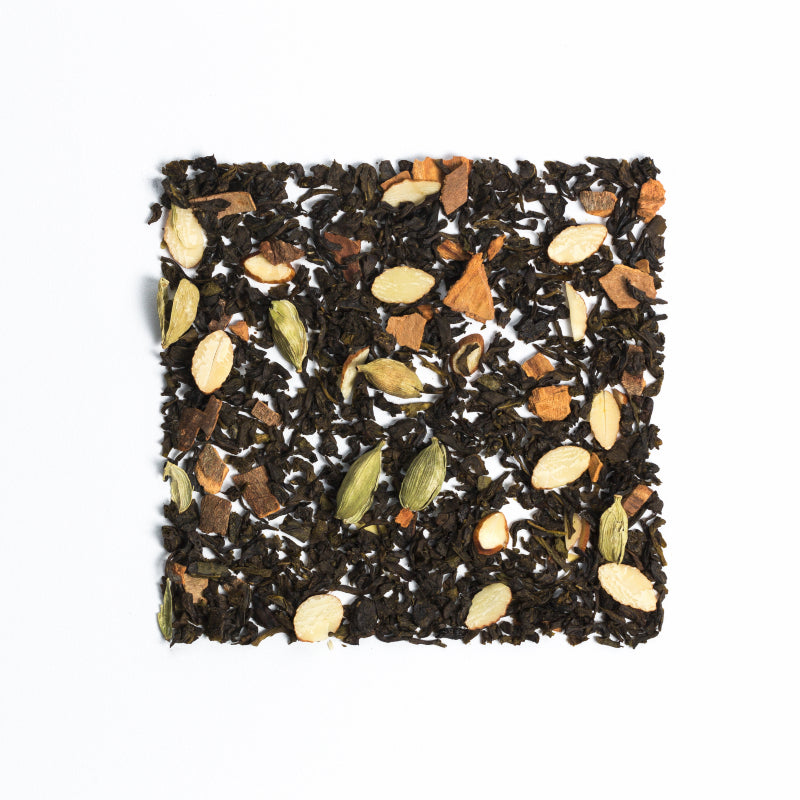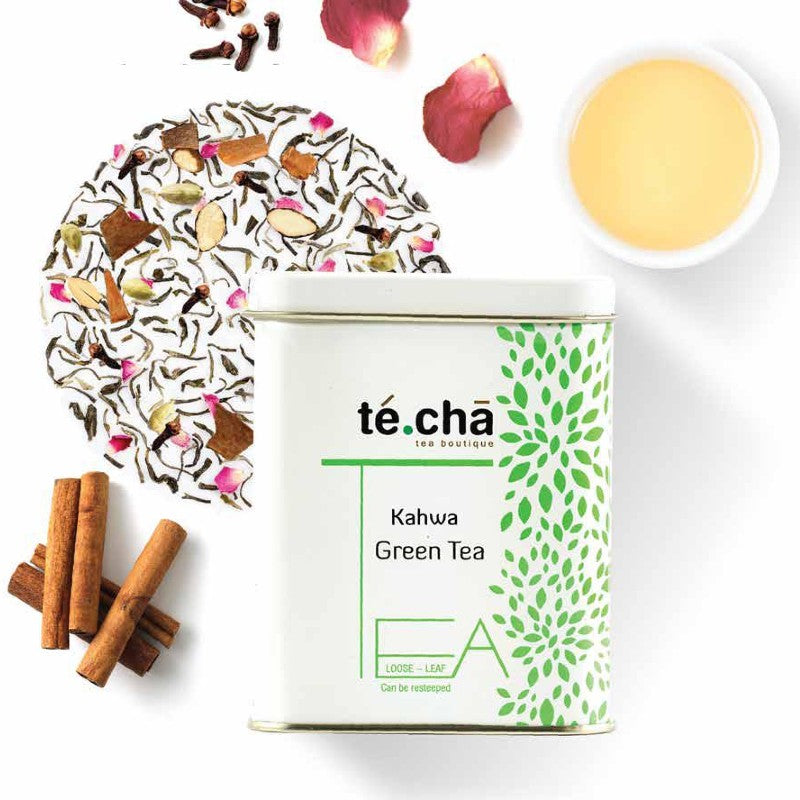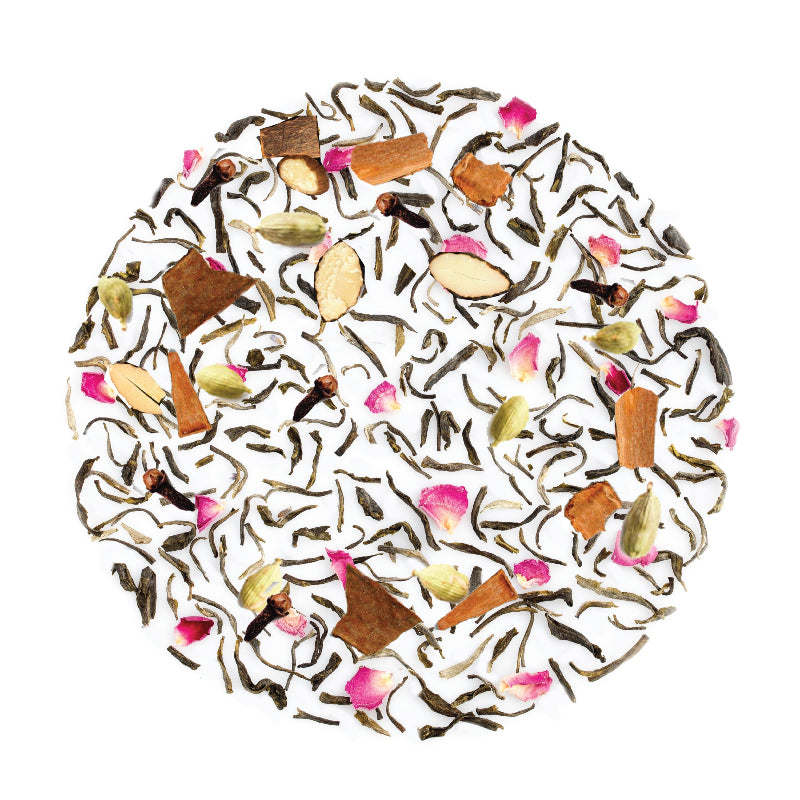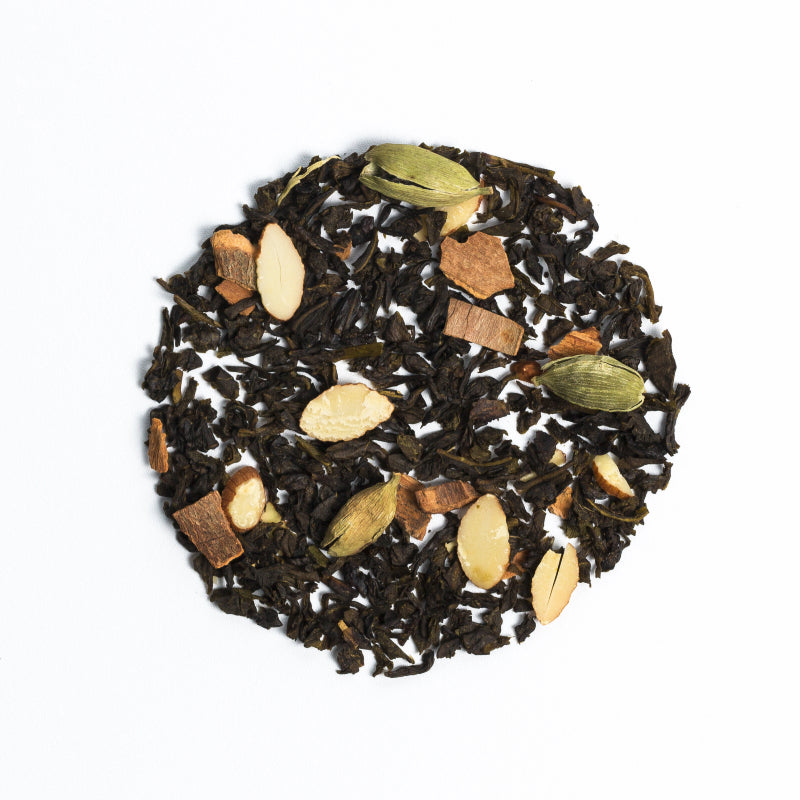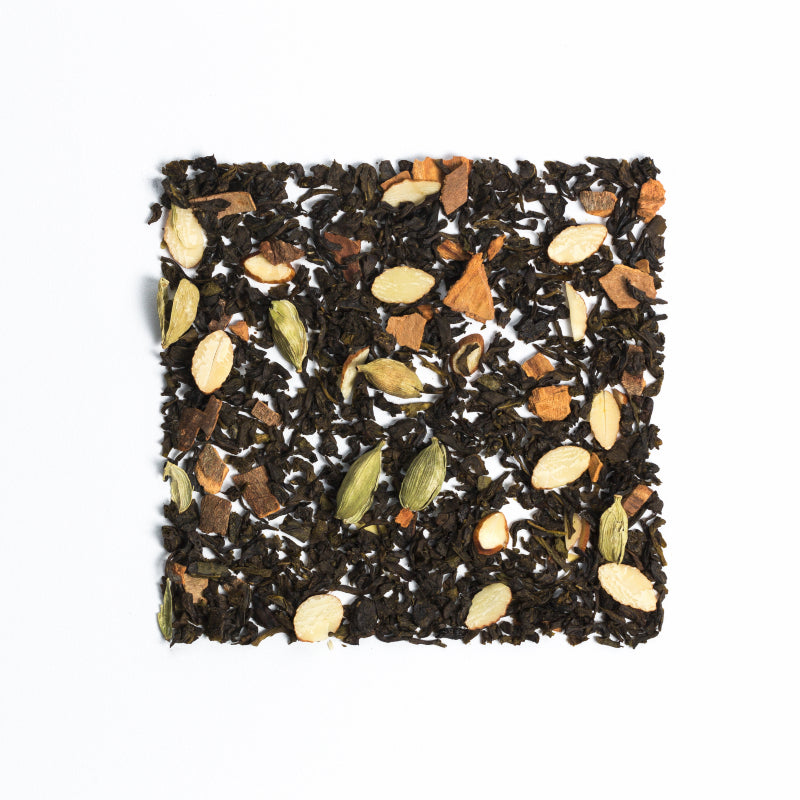 100% Natural Ingredient
Freshly Blended
Immunity Booster
The Essence of Te.Cha Kashmiri Kahwa Green Tea
Te.Cha's Kashmiri Kahwa Green Tea is a harmonious blend of green tea leaves with an array of fragrant spices, including cardamom, cinnamon, cloves, ginger, nuts and saffron, along with the delightful crunch of nuts like almonds or walnuts. These spices, revered for their warming properties and health benefits, complement the subtle notes of the green tea, while the saffron adds a touch of floral elegance and the nuts provide a satisfying texture. This unique combination creates a symphony of flavors and aromas that awaken your senses and soothe your soul.
Why Choose Te.Cha Kashmiri Kahwa Green Tea?
Exceptional Quality: We source our green tea leaves, spices, saffron, and nuts from renowned origins, ensuring that each cup of Te.Cha Kashmiri Kahwa Green Tea delivers an authentic and delectable experience.

Harmonious Blend: The carefully curated blend of green tea, spices, saffron, and nuts creates a flavor profile that is both invigorating and comforting, providing a unique and luxurious taste experience.

Warm and Soothing: Enjoy the warming properties of spices like cardamom and cloves, making this tea ideal for cold winter days or as a soothing evening beverage.

Rich in Antioxidants: Green tea, spices, saffron, and nuts are known for their antioxidant content, offering potential health benefits such as boosting the immune system, reducing oxidative stress, and promoting cognitive function.

Experience the Culinary Traditions of Kashmir: Embrace the rich culinary traditions of Kashmir with every sip of this authentic Kahwa tea, now enhanced with the richness of saffron and the delightful crunch of nuts.
The Versatility of Te.Cha Kashmiri Kahwa Green Tea
Te.Cha's Kashmiri Kahwa Green Tea is a versatile beverage that can be enjoyed in various ways:
Traditional Brew: Prepare a classic Kahwa by simmering the tea blend in water for a few minutes, allowing the spices and saffron to release their flavors.

Milk Tea: For a creamier twist, add milk to your brewed Kahwa, creating a comforting and flavorful beverage.

Honey Sweetened: Enhance the natural sweetness of the spices and saffron with a touch of honey, adding a subtle depth to the flavor profile.

Iced Kahwa: Enjoy a refreshing iced Kahwa on a warm day by brewing the tea with hot water, straining, and chilling over ice.
The Health Benefits of Te.Cha Kashmiri Kahwa Green Tea
Beyond its alluring taste and aroma, Te.Cha Kashmiri Kahwa Green Tea offers several health benefits:
Boosts Immune System: Green tea, spices, and saffron are known for their immune-boosting properties.

Improves Digestion: Spices like cardamom and ginger, along with the fiber from the nuts, have traditionally been used to aid digestion and soothe an upset stomach.

Promotes Relaxation: The warming and soothing properties of the spices and the richness of saffron help to relax the body and mind, making Kahwa a perfect evening beverage.

Rich in Antioxidants: Green tea, spices, saffron, and nuts are rich in antioxidants, which protect against free radicals and may reduce the risk of chronic diseases.

Enhances Cognitive Function: Saffron has been shown to potentially improve cognitive function and memory.

Healthy Fats and Protein: The inclusion of nuts provides healthy fats and protein, contributing to overall well-being.
Experience the Warmth and Wellness of the Te.Cha Kashmiri Kahwa
When you choose Te.Cha's Kashmiri Kahwa Green Tea, you're choosing more than just a beverage; you're choosing an experience. We are passionate about curating a collection of exceptional teas that embody the rich traditions and flavors of India. Our commitment to quality and customer satisfaction ensures that you receive an unparalleled Kahwa experience.
Embrace the warmth and wellness of the Himalayas with Te.Cha's Kashmiri Kahwa Green Tea. Place your order today and discover the unique blend of tradition, flavor, and health benefits that this exquisite beverage offers.
Product Advantages
Fat Burning: Green tea may increase metabolic rate and increase fat burning
Cancer Prevention: Some compounds are linked to a reduced risk of certain cancers.
Brain Boost: Contains caffeine and theanine for improved focus and cognitive function.
Aging: The bioactive compounds in green tea may support brain health
Heart Health: May lower bad cholesterol and reduce cardiovascular risk.
Water
150 ml Water
Temp
85° Temperature
Leaves
2gm Leaves
Time
3mins Time
No. of Steeps
2